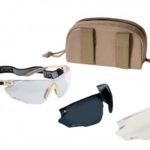 BOLLE COMBAT KIT
€80.00 s DPH / €66.67 bez DPH
excellent panoramic field of view
integrated side protection
non – slip bridge
interchangeable lenses in 3 shades – clear, dark and CSP bronze – supplied in one set
2.5 mm thick polycarbonate glass with ballistic protection STANAG 4296
comfortable legs
adjustable belt with or without foam
99.99% UV protection
scratch protection
antifog protection
Description
Goggles by the French company Bollé Safety, which has 175 years of experience in the production of goggles and masks (since 1936 sunglasses, goggles and masks since 1950 and ski goggles since 1960).
Progressive protective ballistic goggles have an attractive design. Certified to STANAG 4296, EN 170 and EN 172, they provide excellent ballistic protection for versatile use. Thanks to the anti-slip adjustment of the support back, flexible legs exchangeable for an adjustable strap and exchangeable glasses, they provide high comfort and protection.
Surface treatment with UV protection is recommended especially for activities where there are sources of ultraviolet radiation and for outdoor work, the EN172 standard guarantees protection against 99.99% ultraviolet sunlight.
The surface treatment with CSP PLATINUM technology is an innovative treatment to reduce glare and the harmful effects of blue light.
This treatment is protected by a patent and filters 57% blue and 99.99% UVA / UVB radiation. At the same time it has good transmittance, transmitting 64% of visible light. (for comparison – clear lenses filter only 10% of blue radiation and transmit 10% of visible light.